PROFILE
The blog of Tom Franck,
THE MOST POPULAR STAND UP COMEDIAN OF THE DC UNIVERSE



Every Movie I've Seen Since 03/29/02 (1085 of them) UPDATED 12/10/08
Contact Me
Monday, March 20, 2006
For more on the Hendricks - Churella final from Saturday night, if there was corruption involved in the officiating, they're sure not doing much to hide it.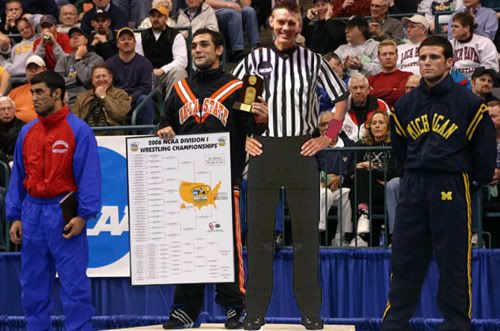 And here's video of the end of the second period.
Posted at 01:37 pm by
jmachinder
Some controversy this weekend in the finals of the NCAA wrestling tournament. The championship bout at 165 lbs. featured defending NCAA champ Johnny Hendricks of Oklahoma State and undefeated number one seed Ryan Churella of the University of Michigan.
It's difficult to tell how things went down from still pictures, but I think the three here are worth looking at. The bout was 4-3 in the second period when Churella locked up a cradle off a Hendricks shot and seemed to have him pinned before time ran out. Referee Gary Kessel didn't call the pin and surprisingly awarded only two backpoints instead of three.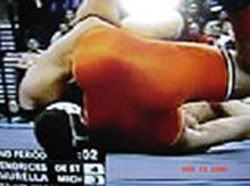 Going into the third period, Churella had a 7-4 lead and Kessel awarded Hendricks two takedowns to give him the match 9-8. Here is the takedown that caused the most controversy as it appears Hendricks didn't have control.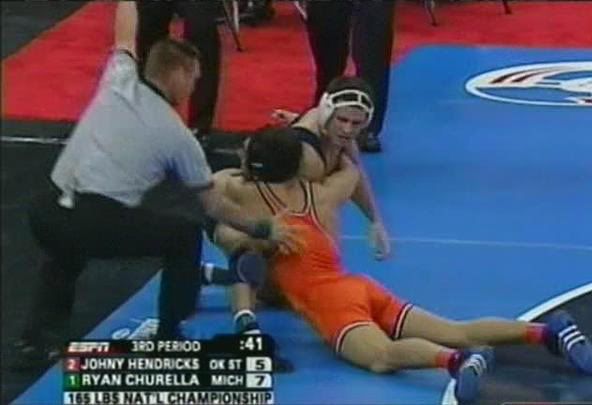 But Hendricks was awarded the championship and Oklahoma State won their fourth title in a row. Here is the team photo.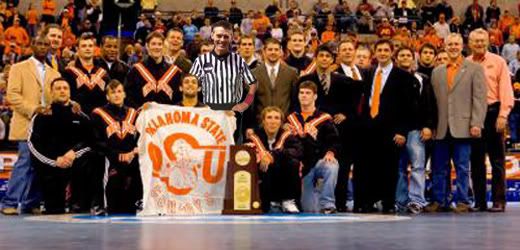 Posted at 08:17 am by
jmachinder
Thursday, March 16, 2006
Movie romances can be a huge pain in the ass for screenwriters. Working on them are some of the least enjoyable moments I have when working on scripts. First off, you oftentimes don't have any say in the matter. Yeah there are categories of films that don't have romances in them (kids movies, horror movies, etc), but whenever a romance can be shoehorned in (and even when it can't) a love story plot will be added.

And the thing is, two people getting together and falling in love is not the aspect of a script or movie that's selling it. At least, it's not the original, different component that intrigues people because they haven't seen it before.

Equally troubling is that the requirements of movie love stories are so specific that you're not really allowed much variation in concocting them. That's not to say that it's easy to crank them out. It's always difficult to make an audience WANT to see two folks to get together. And it's not just the beats of the love story itself that can be troublesome (boy gets girl, boy loses girl, boy wins girl back) but also that you have to work so hard to make the characters relentlessly worthy of each other that they can wind up being kind of boring.

The thing that movie romances seems to stress above all else is clarity. You have to show the audience that these two people are perfect for each other. Even when there's competing suitors involved. Check that, ESPECIALLY when there's competiting suitors involved. The devices that illustrate the complimentary nature of two characters often feel quite perfunctory and unearned to me. What it usually comes down to is that a normal-looking guy is able to relate to a pretty female on a casual, often humorous level, whereas the granite-jawed, humorless he-man that she starts off with just doesn't "get" her.

Here are a few examples.

WEDDING CRASHERS - Owen Wilson can play the slap game with Rachael McAdams and her fiance can't be bothered to do something so silly.
SAY ANYTHING - I know I'm going to be swimming upstream on this one, but I had a lot of trouble with the "don't step on the glass" thing. It just doesn't seem like any kind of genuine measuring stick of kindness. It's difficult for me to envision Ione Sky with a guy so sinister that he'd see glass on the ground and intentionally withhold the information so he can gleefully witness his date stepping on it.
TITANIC - You see, Leonardo DiCaprio can spit with Kate Winslet but Billy Zane is too stuffy to loosen up and just have fun.
WIN A DATE WITH TAD HAMILTON - Topher Grace has memorized Kate Bosworth's "six kinds of smiles" but Tad Hamilton hasn't. I really didn't buy this one. He' studied her relentlessly. So what? Pretty passive, non-proactive reason for winding up with a guy.

I'm sure there are others equally as annoying. If you think of any good ones, please add them to the comments.

You know what really does stand out to me as a good example of one of these moments? A BRONX TALE. Chaz Palmenteri warns "C" about girls who get in the passengers seat of a car where the driver's door is locked and don't unlock it for their date. When Jane gets into the car and unlocks the door for "C", it really worked for me as a moment that shows his interest in her is justified.

Posted at 03:58 pm by
jmachinder
Wednesday, March 15, 2006
I figured I'd follow up on my (admittedly nitpicky) criticism of "The 40 Year Old Virgin" with an old story of real-life toy-auction-drama. In 1999, I saw a photo of a toy I had never seen before. It was called "Cosmos 2000" and falls into the category of "Jumbo Machinder" toys.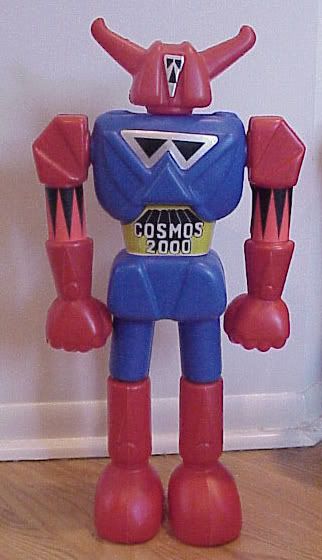 I collect these guys quite actively and my mind is often on those which are not in my collection. I am constantly on the lookout for them and that one appeared that I didn't know about says something. That's not to say that it hasn't happened before (or since). As the collectible toy market has increased in efficiency over the years, many discoveries have been unearthed in the world of Jumbo Machinders. With such discoveries, however, it's not been uncommon for collectors bid feverishly on the first one, only to see several other specimens auctioned off in the ensuing months.
However, with C2K, there was quite a dry spell before another one surfaced. I checked eBay with great regularity but discovered too late that there are different eBays across the globe. Searches on the U.S. eBay site don't generate results in other countries. Long story short, another one went up for auction in Belgium, few people saw it and I missed out. I kicked myself for a long time for being so ignorant about foreign eBay sites.
So after finding out about all these other eBays, I saved a slew of new bookmarks. After several years, one did come up for auction in France. Knowing that other Machinder collectors would soon spot the auction, I made an inquiry to the seller to see if he'd end the auction early and just sell it to me. He didn't speak a word of English and I didn't speak a word of French, so for all my emails to him, I'd type my text in the Altavista Babblefish translator, translate it into French and then cut and paste the text into the body of my email.
The opening bid of the auction was 1 Euro, so I suspected he didn't really know what he had. This is the sort of toy that really seems worthless. It's flimsy, simple, not representative of any TV character and quite docile-looking (a trait uncharacteristic of the heroic and aggressive super robots of the 1970s.) I have to think that it not being an obvious winner with kids is why it was apparently produced in such small numbers. Wanting to entice him to sell it to me, but not tip my hand that this toy was a big deal, I made him an offer of 90 Euros. He surprised me by saying yes.
So how much is it really worth? It's very difficult to tell. None of the four known specimens have had a chance to reach market value. Although it's rare, I think more specimens of this toy will show up. Again, it's the type of toy where the owner isn't going to know what he's got.
I was quite glad to have crossed Cosmos 2000 off my want list and even more glad to have gotten such a deal on him. However, although I've had this guy for a while now, my C2K hunting is not at an end. The third specimen of this guy that was discovered had the exact OPPOSITE color pattern: a red body with blue limbs and a blue head. So I've still got to track down that one. Sigh.
Posted at 02:30 pm by
jmachinder
Tuesday, March 14, 2006
So I finally saw
The 40 Year Old Virgin
, one of the two R Rated comedies from last summer that were big hits. Let me start off by saying that I enjoyed the movie. I thought it meandered a bit much story-wise, but films like this live and die by the comedy and I thought there were a sizeable number of solid jokes in the flick.
In the set up of the character of Andy Stitzer, we learn that he's a toy collector. Being a toy collector myself, this kind of thing gets my attention. Andy has toys on display all throughout his apartment, much like the office from which I'm writing this blog entry right now. In the course of the movie, Andy meets Trish, a woman who works at a store that takes items that people want to sell and auctions them off on eBay on their behalf. As they get to know each other, Trish informs Andy that his toys are actually valuable and that if he would allow her to auction them off for him, he could make a lot of money - enough money to get going on his dream of running his own hi-tech equipment store. Andy is surprised to learn this and they get started.
Wow. Where to begin? I suppose first off, let me say that I don't think that the research required to accurately gather the specifics of this plotline is that extensive. Look around on the internet, make some calls... It's just not that difficult to get it right. We see a lot of Andy's toys throughout the course of the film, and, believe me, they're mostly junk. Through the experience that Trish has gained via her eBay store, she estimates that Andy could get $100,000 from his toy collection. But this turns out to be a vast undervalue as we learn during their wedding that the final tally was closer to $500,000.
But let's not just take my word for it, let's look at eBay itself. Here are links to active auctions on eBay for the items that are shown in the movie. I've customized the links to show the highest priced items first. Granted, auctions for quality items see most of their action in the last few minutes, but I'm telling you this stuff is mostly garbage. If you are still skeptical, bookmark any auctions you like and then take a look at them after they close.
TOY BIZ
- Andy has a lot of Toy Biz action figures made within the last fifteen years (Hulk, Elektra, Dr. Doom, Spider Man). Most of these toys are difficult to give away on eBay. For "Toy Biz" there's currently over 3000 listings and by the end of the first page, the items (once again, listed by price in descending order) are down to fifteen bucks
MEGO IRON MAN
- Andy's specimen is Mint In Box, but this figure is really not noteworthy in the Mego pantheon. If he had ten
Mego Zorro
figures (or even just one) then I'd be impressed. Or at least not so underwhelmed.
MEGO AQUAMAN LOOSE
Even though Andy's specimen has no box (or card, which is MUCH more valuable), he acts like it's a big deal that his still has the gloves. Okay...that brings it up to 21 bucks
OSCAR GOLDMAN FIGURE
Yes, it is worth more than the loose Steve Austin in the OSU undercover outfit that Andy also has, but there's a lot of O.G.s around. And getting one really won't break the bank. The tough S.M.D.M toy to find is the
Venus Space Probe
.
VINTAGE G.I. JOE
They say he's got 47 of them in the movie. All mint in box. Trish says she sold one for a thousand dollars. That's certainly not impossible, but most Joe's are worth considerably less. The inference you get from the movie is that's 47 grand right there and that's simply not the case.
Andy has a lot of monster stuff, (Creature from the Black Lagoon bust, Mummy standee, etc) but most of it looks like it's all recent and not any kind of holy grails.
In a fight between the two of them in the third act, Andy says that he really doesn't want to sell his toys and feels like Trish is just trying to change him. I found this to be an interesting and realistic scene (I know of divorces that have come from toy collecting). But after thinking about it, I believe it's just subtext. Andy's not really mad about selling his toys, but rather is upset that he's a virgin. I'll accept this as a part of his character arc - he's still a virgin because he hasn't been able to "grow up," but it's still a bit insulting. I speak from experience when I say there are indeed adult toy collectors in the world who are not virgins.
I admit that Andy ultimately getting rid of his stuff is realistic as there are indeed adults who pussy out and auction off their toy collections, even when it's not an issue of money. At the end of this month, there's going to be an auction for Leonardo DiCaprio's collection. It's got some good stuff in it - way the hell better than Andy's collection - but we're still talking well below a hundred grand.
By far, the most ridiculous aspect of the toy collecting plot of T40YOV is that Trish is able to offer Andy any kind of insight at all about online toy auctions. The internet has changed toy collecting for all eternity and toy collectors live and die by eBay. A guy like Andy would have hundreds of auction searches bookmarked and would be monitoring auctions constantly - even if it's stuff he already has and even if he isn't looking to sell. Moreover, it's a stretch that Trish is any kind of an expert at all on high-end toys. The stuff that gets brough into eBay stores is junk that people just want to get rid of. I simply can't picture someone with an incredibly rare G.I. Joe who's taken the effort to keep it mint-in-box saying "Gee, I'd like to sell this on eBay, but I just don't get raped enough by their commissions. If only there were a way, I could give up an even larger percentage of the sale to yet another middleman."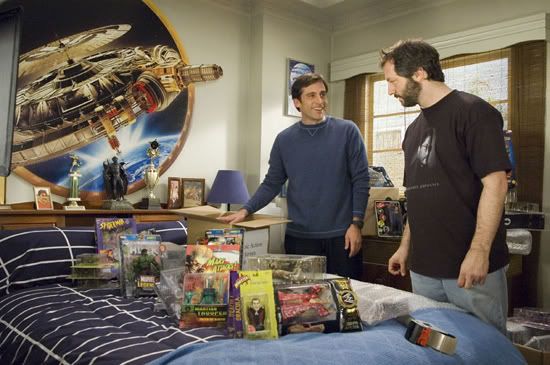 "Hold on a second, Judd. Before we being filming, is that a REAL
"Mars Attacks" action figure
? I'm not sure how I feel about exposing an artifact like that to light."
Posted at 08:49 am by
jmachinder
Sunday, March 12, 2006
Here it is. The greastest, most famous throw in the history of the sport: Wilfred Dietrich tossing Chris Taylor in the 1972 Munich Olympics. There are many stories about Dietrich greeting the 420 pound American with a hug in the Olympic village to see if he could get his arms around the giant and if the throw was even conceivable. It was...


<br>
Posted at 10:21 am by
jmachinder
Friday, March 10, 2006
I recently finished the wonderful book
The Napoleon of Crime
: a biography of Adam Worth, the greatest thief of the Victorian age and the model for Sherlock Holmes arch nemesis, Professor Charles Moriarity. Worth's saga is relentlessly fascinating, but just as big a player in his story is Georgiana Spenser, the Duchess of Devonshire, or rather a painting of her done by Thomas Gainsborough.
The saga of this portrait is insanely dramatic. Georgiana and the Duke had a marriage that was essentially a menage a trois with her husband's mistress. But when she became pregnant with another man's child, the Duke threw her out and got rid of Gainsborough's remarkable portrait of her.
The painting didn't surface again until the autumn of 1841 when it was rediscovered by John Bentley.
"An astute art connoisseur, Bentley owned a thriving dealership in the metropolis and was much in demand as a valuer of Old Masters. Over the course of his career, for pleasure and profit, he had made it a rule to spend a few weeks in every year wandering through the small villages and towns of England, making inquiries as to whether any of the local residents had works of art or other antiques they wished to value or sell. Many a bargain was to be found in this way, and the practice enabled Bently to shed, for a while, the cares and strains of metropolitan life in a bucolic and nomadic quest for art."
Being a collector myself and having traveled far and wide in search of my own treasures, the images conjured by the above paragraph greatly move me. It's certainly a more glamorous manner of acquiring than simply winning something on eBay from your home while eating Cheetos. One can only imagine Bentley's joy upon discovering the painting in the home of Anne Maginnis, who had no idea of its importance and had chopped off the legs so that it could fit above her mantleplace.
The rediscovered, if mutilated, Gainsborough ultimately went up for auction in 1876 and the Duchess was all the rage in London. About a hundred years after its completion, it made a huge impact on Victorian fashion and suddenly large hats with ostrich feathers were everywhere. Moreover all men who saw her were smitten with Georgiana. When the auction finally took place, the bidding was furious and set a record for the price ever paid for a painting (until 1893).
But while the winners of the auction put the Duchess on display, Adam Worth stole it in order to raise money to get his brother out of prison. But as fate would have it, the officers who arrested Worth's brother made procedural errors which set him free. So Worth now had his brother's freedom and the Duchess. So he kept it. He put it in a false-bottomed trunk and it traveled the globe with him. He didn't return it to the owners until TWENTY FIVE YEARS later.
Once returned, it was sold to one of the wealthiest men alive, J. Pierpont Morgan. Morgan, like Worth, essentially kept Georgiana all to himself as did his children. It wasn't until 1994, when Morgan's last grand daughter died, that the painting of Georgiana went up for auction again. Once again the bidding was intense and the painting went for a staggering amount to the representative of a bidder who insisted on having her: The Duke of Devonshire. So, after two hundred years of being cast out of her home, the Dutchess returned to
Chatsworth House
, where she rests today and is on display to the public.
So moved by the drama of this tale, that I couldn't help but want to learn more about Gainsborough. As luck would have it, there's an
exhibit of Gainsborough's "Cottage Door" paintings
right now at the
Huntington Garden and Library
in Pasedena. I went this past weekend and was quite blown away. Much in the way that his portrait of the Duchess spawned a slew of imitators, his paintings of cottages appear to have started and equally popular trend. Many other cottage paintings by other artists were on display at this show, but none could really hold a candle to Gainsborough. The dramatic contrast of his dark settings and the warm flesh tones of his figures are really something to behold. I'm going to have to see more of his work. And one day I just have to see the "Duchess" in person.
Posted at 02:27 pm by
jmachinder
Wednesday, March 08, 2006
In the early nineties, as the standup boom was declining and alternative comedy was about to take root, there was kind of a backlash against "slick comedians. What I think had happened was that standup had gotten so popular that comedians - even those of little experience - could get so much stage time that they'd be able to successfully work the road without an act of note...and become very polished in a short period of time. Moreover, because most folks going out to a comedy club aren't comedy experts (i.e. able to discern what material has already been covered by others) a decided lack of originality popped up in these acts.
Consequently, all these guys who could work a room even if he had an act not dissimilar to the guy who was there the week before began to get TV spots. Standup shows were ubiquitous and these slick road comics were in people's living rooms with great regularity.
...And then, people got sick of them, wanted something different and the standup world fell apart.. Personal impact aside, I found the trend rather sad, since I think there's a lot to be enjoyed from slick comedians ( comics who work very hard to devliver it as prefessionally as they can) provided they actually have a good act. And many slick comedians of the day did.
Perhaps the slickest of them all was Dennis Wolfberg. Wolfberg was very popular during the boom in standup, had very solid material and was on TV all the time. Some people didn't like him because of how much he'd over ennunciate and contort his face while delivering his jokes. But he was really a cut above most in terms of technique. He was definitely one of the most methodical comics ever to pick up a mic.
He was not a big favorite of the staffs of many of the clubs in which he'd work. This was because, unlike many headliners, he wouldn't mix his act up and suddenly bring out fifteen minutes of old material in the middle of the week if he got bored. Even on a second show Friday night, he'd still be tweaking the set he'd been doing since he got into town. The refinements he would make to his act over the course of a week were definitely with fine grain sandpaper - and most people wouldn't even notice them if you weren't paying close attention. Every breath, every flick of his tongue was planned out, tested and evaluated.
He would kill just about all the time. I mean really crush a crowd. Yet after each and every show he would leave the stage and furiously take notes on the performance. If you were working with him, you'd be like "Dude, what are you writing? I think you got it down."
But the place where his technical skills really stood out wasn't so much in delivery, but rather structure. Dennis Wolfberg was, by far, the single greatest seque artist I have ever seen. Over the years, lots of comics have made fun of segues (most notably,
Doug Benson
's very, very funny bit on them). However, segues can truly be a powerful ally to a comic.
When one joke doesn't go over, a great amount of audience discomfort can be dispelled if it comes across like the bit was just leading up to something else. That it's okay if you didn't laugh, because it wasn't the REAL point, but rather just an amusing warm up. With Dennis Wolfberg, for forty-five minutes it really felt like he was talking about one thing. I've never really seen anyone with that kind of a refined flow.
Moreover, his 5 minute TV sets were very tight. One of his appearances on the Pat Sajak show was one of the best TV spots I've ever watched.
Dennis Wolfberg died of cancer in October of 1994. The relentless road warrior that he was, he had been performing in clubs up until August of the same year.
Posted at 06:39 am by
jmachinder
Monday, March 06, 2006
Here's an interesting
article
on comedian Dane Cook and his new deal with HBO. Regardless of what you think of Mr. Cook as a comedian, what a pioneer for the world of standup. He's really shown the possibilities of promoting a stand up comedy act through the internet. There may come a time when other standups have a webpage as amazing as his, but for now
Dane Cook's website
rules the universe.
Posted at 10:16 am by
jmachinder
Saturday, March 04, 2006
This is a huge weekend for college wresting as most of the conference tournaments go down today and tomorrow.
My latest article
for Revwrestling.com is live which discusses the top twelve potential matchups in these conference tournies.
Since I'm already on the subject, I need to give a mad shout out to my
old high school team
, which has qualified for the
state semi final
next week. Massachusetts has set up a new system this season in which team points are no longer kept during the individual tournaments (which take place on the weekends) and the rounds of a dual meet state championship occur weeknights inbetween. I'm not sure I think the system is completely working, but I'm really impressed with Framingham's success in it so far. Go Flyers!
Posted at 06:52 am by
jmachinder