PROFILE
The blog of Tom Franck,
THE MOST POPULAR STAND UP COMEDIAN OF THE DC UNIVERSE



Every Movie I've Seen Since 03/29/02 (1085 of them) UPDATED 12/10/08
Contact Me
Thursday, July 17, 2008
I recently got the notice to renew my car registration and saw that this was a year that I needed to get my car smog checked (in California, you've got to do it every other year). I drove by a bunch of places and found what looked to be like a good, full-service smog station. Upon handing an employee the certificate, I was told that they couldn't smog check my car, since I was authorized to get it done at a "Test Only" station. I really didn't understand the logic in this, but acknowledged that it was the law and that the mecanics' hands were tied - figuratively (although it often seems like mecanics' arms are literally tied.)
This "test only" system seems silly since if you fail, you've got to go to a completely different place to get it fixed. And that's exactly what happened to me. So instead of making one trip to get this taken care of all at one place, I now had to make four trips at three different places. 1. The place that told me they couldn't test my car. 2. The place my car failed the test. 3. My own mechanic's shop where the problem was fixed and 4. Back to the place where I first failed then passed.
I'm all for emissions standards, but after all this, I kind of want to refit my car to exhale as much smog as possible. That will teach the DMV a lesson!
Posted at 04:18 pm by
jmachinder
Wednesday, July 16, 2008
Check out images of this upcoming Meka Godzilla toy by Bandai!
Standing 20 inches tall this sucker is of the very first (and very best) design of MG. Although he won't fire any projectiles, the controller will let you mimic many of his famous weapons. That's right, he's radio controlled!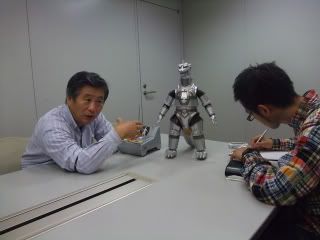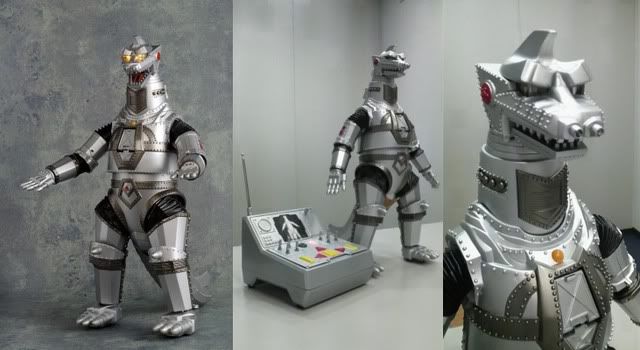 The price hasn't been announced, but it's tough to come up with a figure that will stop me from getting this guy!
Posted at 04:08 pm by
jmachinder
Tuesday, July 15, 2008
Without even seeing it (I doubt I ever will) boy is it clear that "Hancock" is pure, undistilled Poochie. Nothing sells "attitude" like sunglasses. This isn't your parents' superhero, that's for sure. This movie is a completely outrageous paradigm.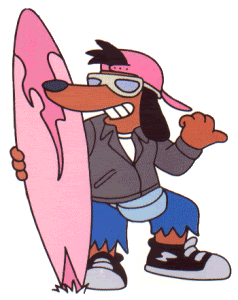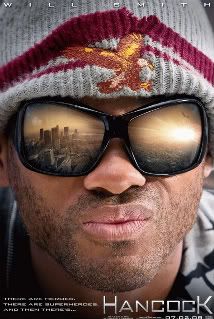 Posted at 04:28 pm by
jmachinder
Saturday, July 12, 2008
Our cat is getting older. She's still in good health, but she doesn't have a whole lot of teeth left. The vet told us that her teeth weren't in good shape several years back and his solution was that I brush them for her. And the thing was he acted like it wasn't a big deal. "It just needs to be once a day," he said. My life is already filled with too many day-to-day tasks and the idea of having to add feline teeth brushing on to my daily "to do" list wasn't something that I was going to pretend would ever happen. In a world where self-cleaning ovens exist, it just seemed ridiculous to me that I had to brush my cat's teeth. So I didn't and her teeth got worse. That's life, kitty.
Another way that I tried to make my day simpler was to feed the cat dry food. The world of dry food has a much lower level of mantainance for pet owners than wet food and, again, anything that makes my day even a little bit easier is something I will fight for. But as my cat's teeth got worse, chewing dry food became more and more of a problem which resulted in her throwing up. Gradually, cleaning up cat vomit became part of my daily routine - or perhaps I should say part of my "nightly routine" as her puke time was about 2:30 AM, almost on the nose. The problem was solved with a switch to wet food - something she had never experienced before. And while my life has become a bit worse than the good old dry-food-days that were free of that pungent wet food smell and having to clean crusty residue of once-wet food from the cat dish, her life has become significantly better. She'd never even known that something as delicious as wet food even existed before and she must be relishing in the fact that it doesn't make her puke. The meows preceding meal time have become significantly louder, the rubs against my legs more forceful and although feeding her is more of a chore than it used to be, I'll take the world of wet pet food over brushing my cat's teeth any day of the week.
Posted at 10:37 am by
jmachinder
Saturday, July 05, 2008
I saw "Wanted" earlier this week. I didn't like it for a bunch of reasons, not the least of which was the overstated character arc. These days, it seems like It's not enough for a character to begin as a loser who has to take the journey of the movie in order to realize his potential... he's got to be a complete loser. Moverover, the way that he escapes his loserness is often very reactive - through other people telling him over and over again that he's "special" (see Harry Potter). Personally, I prefer characters who are told their goals are impossible, don't listen to those voices and go on to conquer.
But anyway, back to the point. At the beginning of the story - in order to show you just how pathetic Wesley Gibson is (the lead character in "Wanted") - he Googles himself and gets no results. Really? As far as I can tell, that's not possible. The results might not be him, but there's going to be Wesley Gibsons out there. And he doesn't even do the search with quotation marks around it. So if someone had blogged about a hypothetical fight between WESLEY Crusher and Mel GIBSON (as I'm sure someone in the blogospher has) there'd be a result for it. I don't know why Google would lend their name to this film. Although it's a big, successful movie, they come across as a useless search engine.
For the record, in our universe, when you put quotes around "Wesley Gibson" and do a Google search, you get about 106,000 results. When you don't use quotes, you get about 3.35 million.
Posted at 09:29 pm by
jmachinder
Tuesday, July 01, 2008
My highschool wrestling team had a fundraiser this past weekend. I couldn't fly out for it, but was able to put together a highlight reel for the event. It took a lot of work to track down footage from the different eras, but it was also quite enjoyable to see the matches and play around with the editing software. There's some jokes in there that can not be understood by people outside the team, but it still should be watchable.
The team is going to be tough next year!
Posted at 07:09 am by
jmachinder
Friday, May 23, 2008
No one makes better videos than Weezer. Unbelievable!
Posted at 09:23 pm by
jmachinder
Tuesday, May 13, 2008
Here's part of a plot synopsis that I've found for the upcoming James Bond film, THE QUANTUM OF SOLACE.
"Pursuing his determination to uncover the truth, Bond and M (JUDI DENCH) interrogate Mr White (JESPER CHRISTENSEN) who reveals the organization which blackmailed Vesper is far more complex and dangerous than anyone had imagined. Forensic intelligence links an Mi6 traitor to a bank account in Haiti where a case of mistaken identity introduces Bond to the beautiful but feisty Camille (OLGA KURYLENKO), a woman who has her own vendetta. Camille leads Bond straight to Dominic Greene (MATHIEU AMALRIC), a ruthless business man and major force within the mysterious organization."
I'm just curious if there's anyone out there who thinks that the mysterious organization that Bond is after ISN'T S.P.E.C.T.R.E.? If it's a new organization that moviegoers don't know anything about, I don't see much point in keeping it a secret from us.
Posted at 12:48 pm by
jmachinder
Sunday, April 27, 2008
TIME MAGAZINE - HIGHLANDER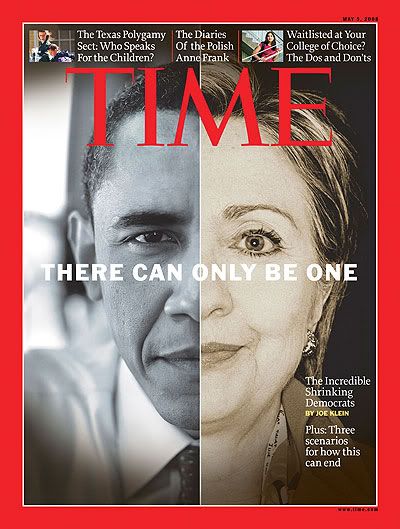 After seeing the cover from this week's issue of Time at the newsstand, I have to wonder if their editors realize that they're quoting from Highlander. The magazine is so traditionally unhip, that my guess is that they don't. At best, they probably think the phrase originated with "The Spirit of Christmas" short that launched Southpark. I could be wrong, but even if I am, I like that this has happened. In fact, I think Time should do it every week.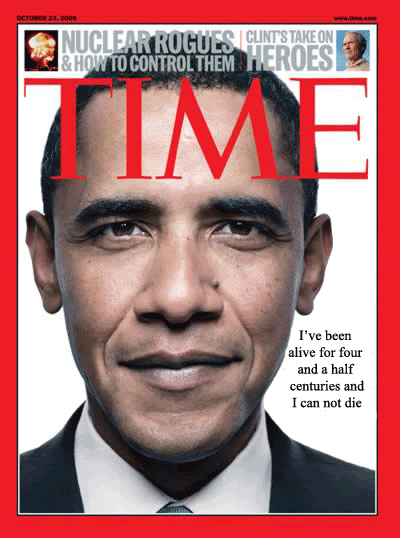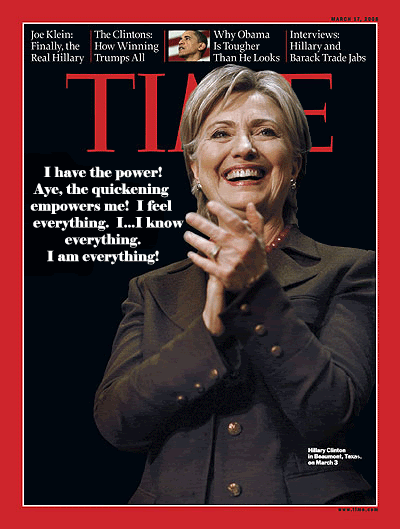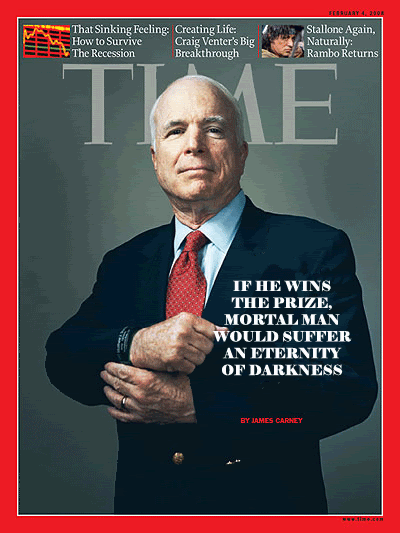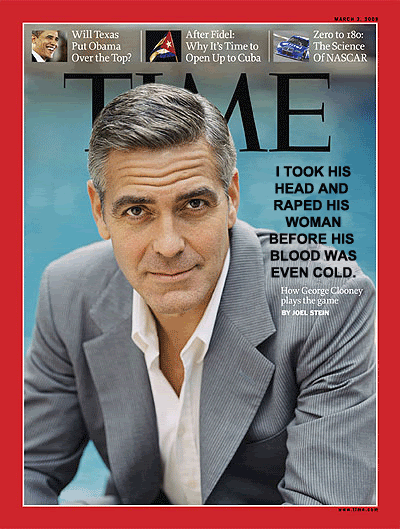 Posted at 11:39 pm by
jmachinder
Tuesday, April 15, 2008
The great film director Jules Dassin died at the end of last month. I've been a fan of his work for quite some time and was so enthusiastic about him that, at one point, I made an effort to see all of his films. I haven't succeeded yet, but have probably seen more of his filmography than most. A few years ago, the Los Angeles County Museum of Art showed many of his movies in a festival. After the screening of his masterpiece, "Rififi," he made a rare appearance. The discussion and Q and A that followed was moderated by Bruce Goldstein of the New York Film Forum. I had a question that I wanted to ask Mr. Dassin, but didn't get the opportunity to. Frustrated, I looked up Bruce Goldstein's email address and wound up corresponding with Mr. Dassin through him.
Dassin apprenticed under Hitchcock and it's quite clear that it had an impact on his technical skills as a director. Dassin made gorgeous-looking films and established himself early on as a master of location photography. "The Naked City" won a deserved Oscar for how well is captured the beauty of New York City. This would begin a trend of his and he followed up by doing the same for London in "The Night and the City," Paris in "Rififi" Piraeus in "Never on Sunday" and Istanbul in "Topkapi." In fact, tourism for the respective countries spiked considerbly after the successes of "Never on Sunday" and "Topkapi."
The film of his that he was most fond of is the little seen "He Who Must Die," though most (including myself) consider "Rififi" to be his best. If you haven't seen it, it's really worth checking out. The influential heist sequence still holds up today and one can only imagine how impressive it must have seemed when it hadn't been copied so many times.
My second favorite is "The Night and the City" which is incredible on its own, but strikes a chord with me due to how much of the plot revolves around the grandeur of amateur (Greco Roman) wrestling and how the sport is sullied by the world of professional wrestling.
...Which brings me to my correspondence with Mr. Dassin. "The Night and the City" isn't the only film which featured wrestlers. The part of the scheme of Topkapi revolves around a Turkish wrestling event being so engaging that one simply can't turn away from it, and, "The Naked City" features a villain who is an (amateur) wrestler. The reoccurance of wrestlers in Jules Dassin's films made me wonder if he was a fan. He wound up spending much of his life in Greece, which obviously has a long tradition of classical wrestling. Bruce Goldstein kindly forwarded my question to him. Below is a cut-and-pasted response directly from the horse's mouth.
"With my regards tell him that all I ever wrestle with is my conscience." -- Jules
Posted at 04:21 pm by
jmachinder