I went to the Getty Museum last month with my family to check out the BERNINI EXHIBIT OF BAROQUE SCULPTURE. I've been a fan of Bernini's work for a while, but was still unprepared for how impressive his stuff is in person. It's just stunning. I came armed with drawing materials with which to sketch, but had a difficult time doing so for two reasons. 1. As is always the case, I didn't have enough time (I'm not the fastest person with a pencil) 2. The place was packed. Tons of traffic parading around the sculptures had the effect of not only obstructing my view but distracting my concentration.
We happened to arrive at the exhibit at the exact same time as Jack Black, who was yacking on a cell phone while I was trying to appreciate and study these magnificent marbles. There weren't many places to sit and this was one of the few I could get a good look at from a bench....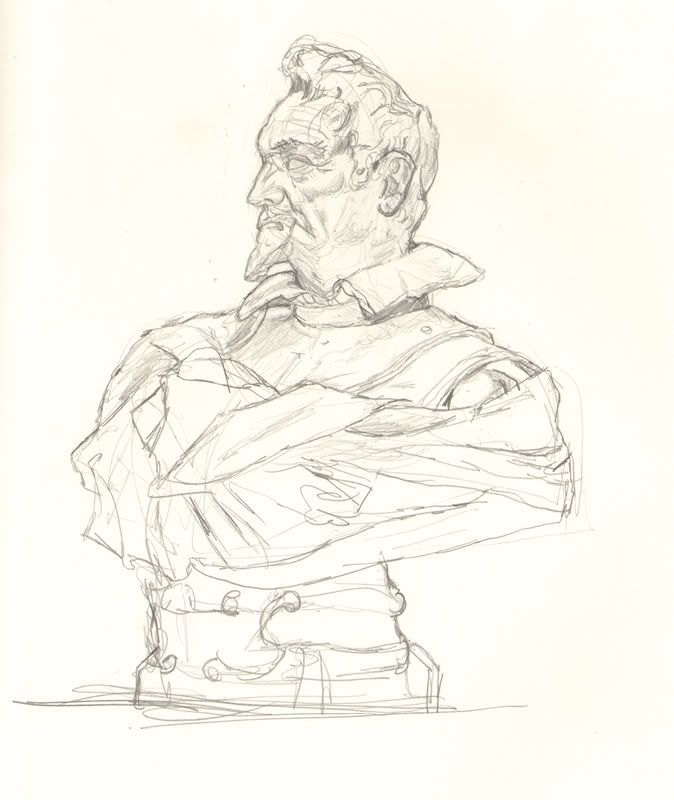 Upon closer inspection of the description, I discovered this wasn't by Bernini at all but rather another sculptor who participated in the Baroque movement. While still obviously beautiful, I was slightly frustrated and marched over to one that was famously made by Bernini's hand...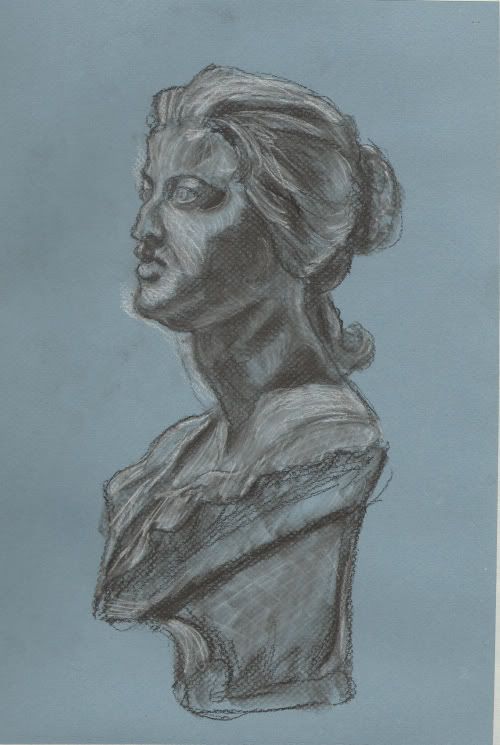 This is Constanza Bonarelli (sounds like she's from Jersey) and was the wife of one of Bernini's assistants as well as Bernini's lover. It's arguably the most famous bust that he sculpted and has fascinated people for hundreds of years. I made this drawing with black and white chalk stumped on blue paper. I did this after falling in love with the life drawings of another artists, Pierre Paul Prud'hon, who FAMOUSLY USED THIS TECHNIQUE.
Prud'hon was part of the Neoclassical movement in France in the late 1700s. I've been reading some books about this movement as well as Prud'hons half-hearted participation in it. A big reason for the renewed interest in classical art during this time, was the publication of THE HISTORY OF THE ART OF ANTIQUITY in 1764 by Johann Joachim Wincklemann. The book was a huge success -- in no small part because of how much more serious the scholarship was when compared to previous studies on Greek and Roman art -- and in many ways brought the study of art history to new levels.
I happened to be in the middle of the book when I went to the Bernini exhibit. Considering how influential it was at the time, it's interesting to read it hundreds of years later. Wincklemann spends much time correcting assumptions made by previous art historians and seems to greatly enjoy doing so. Moreover, was deeply in love with his own opinions. One artist who he liked to beat up on in particular was, ironically, Bernini.
"In others, the climate did not allow the delicate feeling for pure beauty to mature. Either this feeling was hardened in them by their skill, that is, by the effort to apply their knowledge everywhere in the production of youthful beauties, as with Michelangelo; or this feeling was over time completely corrupted in them by a vulgar flattery of the coarser senses so as to render everything more readily intelligible to the eye, as happened with Bernini. The former occupied himself with the contemplation of high beauty, as we see from his published and unpublished poems, in which he reflected upon it with noble and elevated expressions, and with massive bodies, he is admirable. But for these same reasons, his female figures are creatures of another world in their build, action, and gestures. Michelangelo is to Raphael what Thucydides was to Xenophon. The same course that brought Michelangelo to impassable places and steep cliffs plunged Bernini, by contrast, into swamps and puddles. He sought to ennoble forms taken from lowest nature by exaggeration, as it were, and his figures are like common people who have suddenly met with good fortune; their expression is often contradicted by their action, as wen Hannibal laughed in extreme grief. Nonetheless, this artist has long sat on the throne and homage is paid to him even today (1764). The eye of many artists is as faulty as that of the uninstructed..."
I'm not sure I get every last thing he's saying here, but Wincklemann goes to great lengths to tie beauty to youth and I think he disapproved of Bernini making so many sculptures of elder subjects. It's also interesting to see Michelangelo not getting off easy!
"This view will surprise those who are aware that through one single man, such as Bernini, a corruption was introduced to art that continues to this day."
Wow. Considering how narrow Wincklemann's view of what great art is (not much gets a passing grade outside of the age of Pericles) I wonder what Winckleman would have thought of modern art? But he's just plain wrong about Bernini.